Sorry for the delay

with

my posts. The weather has been wild over here. We lost internet connection completely yesterday. (I still had the hotspot on my phone

, but it's hard blogging that way

.)
Here's a picture from my

parents'

house

last night

.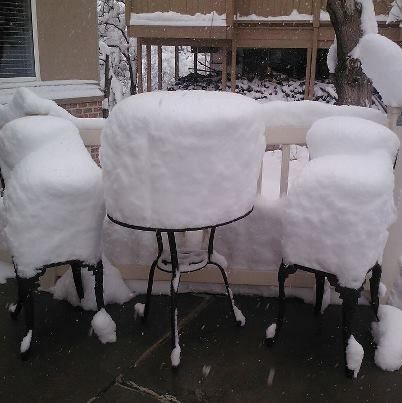 Th

e following

is a continuation from a previous post:
To Recap: I'd been traumatized, by a teenage mother who wouldn't look at her baby, by a grandma who was more concerned with baking than holding her own great-grandchild. I couldn't get over the baby in the laundry basket, or my friend who turned into her own druggie mother.
After I asked about an open adoption, my

friend's single line said so much:
"

I refuse to be like my mom. She stayed in my life and look what I've turned into."
As I read between the lines, I realized this story applies to so many lives.
At some point, we've each felt like the teenage mother did.
Last week I got another critical

email from someone who read

The Golden Sky. She disliked many choices I made

.

. . .
. . .

I pulled my infant son off of life support. No one really knows how hard it was, except Cade. People can read my story and feel like they know what should have been done. But I was the nineteen-year-old who had a kid with defects. I was the one who tried giving my son a chance instead of aborting him

like so many people suggested. It was me. Not them.
That same woman had a friend who also emailed me, wondering why I stayed with Cade

after everything he did when Zeke died

. She just couldn't understand. And what's funny is that she hadn't read the whole story about my me

eting

Cade and him sticking with me through Hawaii. I think she also forgot,

Cade was
grieving

too
.
Despite

everything

,

those emails tore through me.
It's hard releasing a journal for the public to read. It expose

d

everything th

ough, a

ll those choices I made, some bad and good

.

I did the best I could with what I had. That doesn't make the

criticism

less painful though.
As I sipped some coffee and stared out the snowy window, I remembered the teenage mother's story. She'd been fifteen, had a baby, been lost and felt alone. Yet she'd put the baby up for a closed adoption. The community judged her

harshly

and so did I. We couldn't understand how

someone

could make such poor choices after her own mother died of an overdose.
As I remembered though, tears filled my eyes. She had been so brave. And despite everyone's

judgmental opinions

, she stopped the cycle of pain by doing something right.
I remembered her face when I

said,

"Maybe I should see the baby. Did you have a boy or a girl?"
"Don't know. Don't care,"

she said.


"What? You don't know?" I couldn't imagine her not caring, but maybe that's because she did care.
Looking back, I know

s

he gave up the baby, realizing if she got attached, things could go terribl

y

wrong.
I don't know how she's doing or where she is. Deep down I'm worried she kept doing drugs. I imagine her the way she was in seventh grade, beautiful and happy. I also imagine her baby in a loving home

, not knowing

all the pain drugs caused

for generations

in

their

birth family.
I read the emails again, people judging me harshly. And all the sudden it didn't matter quite so much

what anyone thought. All of us have felt like others don't understand our actions; in that respect my friend and I are not alone.
I knew what I needed to do

, and

I did what was right

. That's all there is to it.
For more info about the book I've been writing about,
please go HERE.