"What will you be when you grow up?" the woman asked me when I was five.
The truth remained, this was a touchy subject. Did she always have to ask TERRIBLY SAD questions? I was only five! I loved Doris Day and Ginger Rogers--tough luck I'd been born in the 80's. I could have tap-danced my way to stardom, but none of the other kindergarteners liked tap--heck, none of those pansies even knew who Gene Kelly was!
I mumbled then, to that old woman who thought I was so delightful. "Well, I'll never be a tap dancing star . . . Instead, I guess I'll have to buy a beautiful castle with huge rooms."
She laughed--she always laughed and it was infuriating. "And how will you get enough money to buy a castle?"
"It's just money." I scoffed at her. "I'll get it somehow."
"And what will you do with all of those rooms?"
Sure she wanted to hear about my future. What was HER past like though--had she been an interrogator for the F.B.I.? I could picture it clearly. "If I can't be a star," I said, "then I'll devote my life to charity! Those rooms will be for my cats. I'll take care of all the cats that used to be sad, mean, old or homeless. I'll have thousands of cats in my castle and I'll NEVER get married!"
It was true. There I stood, reconciled to the life of a giver. Who needed stardom--or marriage--after having a million cats to feed . . . take that Shirley Temple!
My mom and I left the old folks home then. We'd go visit that woman once a week because for some reason she liked me. I was very sad when she died; after all, she asked the best questions.
I never knew I would grow up, get married, buy a tiny house, have FIVE babies (only one cat) and become a writer.
I thought about this last week, because I had a book signing at the best book store ever.
The owner loves cats. (The place is called "The Read Cat Bookstore" as in "I loved the book I read last week.") He would have completely understood the answer I once gave an old woman. Here are some pictures of the genre labels he designed himself. He's very talented!
And my favorite because it's epic!
Here are some pictures of me at the signing: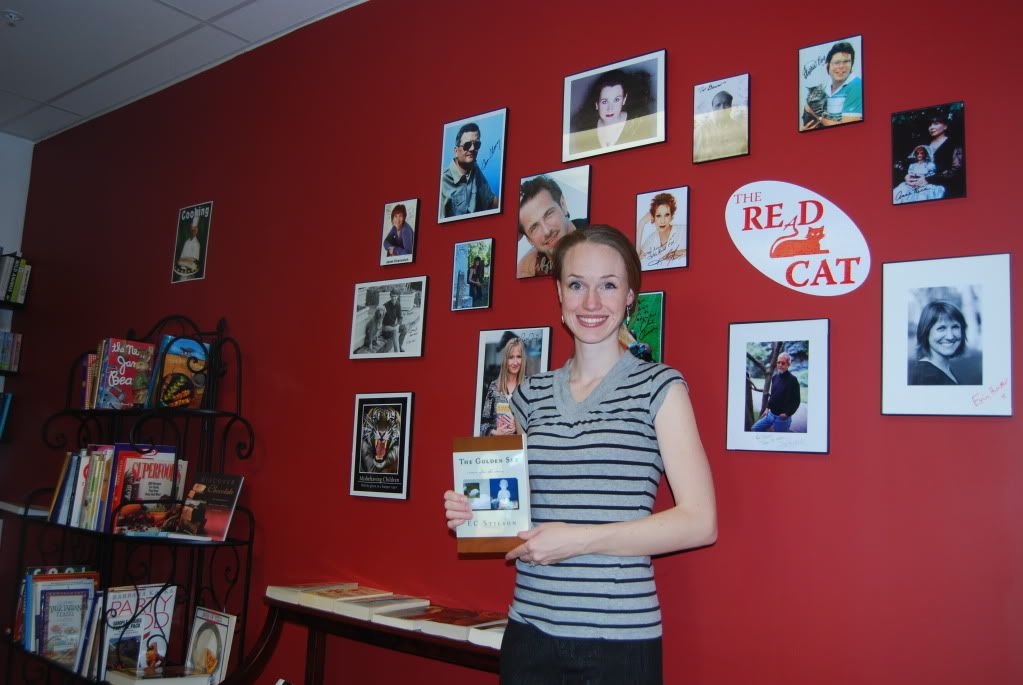 Anyway, after these pictures were taken, a wonderful man wrote an article about me in the Examiner! Here's that link:
I didn't get that castle or become a dancing star, but I think I got something much better. It's amazing how life works out just perfectly.
In closing, I have an announcement.
My newest book "The Sword of Senack" is coming out on 3/17/2012!
To celebrate this exciting event, Wayman Publishing is holding an art and writing contest!
If you'd like more information about that, please go here: